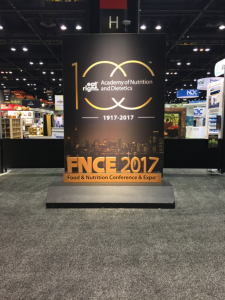 Every year at the Food and Nutrition Conference & Expo (FNCE), professionals in food and nutrition gather for the latest and greatest in both nutrition science and industry trends.  FNCE took place at the McCormick Place in Chicago, IL on October 20-23rd, marking the centennial year of the event hosted by the Academy of Nutrition and Dietetics. According to Donna Martin, President of the Academy of Nutrition and Dietetics, there were over 13,000 attendees at this year's FNCE event, which hosted 156 educational sessions and over 390 exhibitors over the course of 4 days. This year, the Kerry Health and Nutrition Institute hosted educational sessions on plant protein and fiber, attended various educational sessions, and walked the expo floor to bring back some key insights.
Conference Highlights
Bringing the 'wow' factor to nutrition messaging

The conference kicked off with a keynote speech by Dr. Sanjay Gupta, a practicing neurosurgeon and CNN medical correspondent. Dr. Gupta spoke about many of his experiences as a surgeon and as a medical journalist, but the key take-away was this: healthcare professionals need to think about medical messaging as a way to extend reach and enhance impact. He challenged the dietetics community in attendance to reframe nutrition messaging, which often focuses on the prevention of chronic disease. In other words, if you put in the work and eat a healthy diet, congratulations—nothing at all will happen to you! But for most people, 'nothing happening' is not a good incentive. Therefore, this medical message goes poorly received and largely ignored. Instead, the target message should be directed at the presence of positive outcomes as a result of good nutrition: increased vitality, enhanced performance, greater productivity. Essentially, his point was that healthcare professionals should take a lesson from marketers and call out the attractive benefits to sell nutrition rather than leading with disease prevention.
KHNI addresses some of the hottest topics in nutrition
This year, the Kerry Health and Nutrition Institute sponsored two educational sessions presented by external experts in the field. The sessions entitled "Minding your Peas and Qs: Plant Protein and the Quest for Wellness, Quality, and Functionality," and "Cleaning up Label Confusion about Fiber: The Road Ahead for Research and Practice" were both very well attended, meaning these topics will continue to be trends for the foreseeable future. Discussions at these sessions revealed there is still a lot to learn moving forward on the effectiveness of certain fibers on our health, best ways to determine protein quality, and the regulations globally for both of these topics.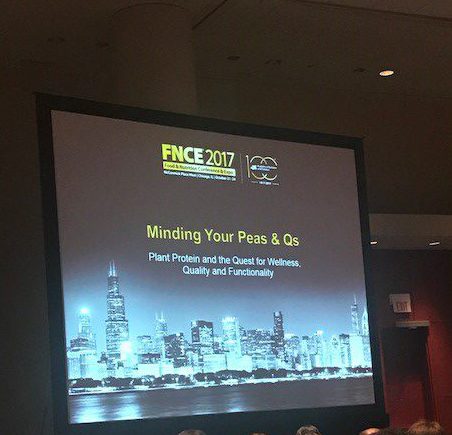 Learning from history
One of the most fascinating and relevant sessions to dietitians in the food business, entitled "What Chicago in 1900 can teach us about challenges of science and food today" , discussed the inception of today's industrialized food system and the parallels to many modern challenges within the industry.
Four key players helped shape the modern food system: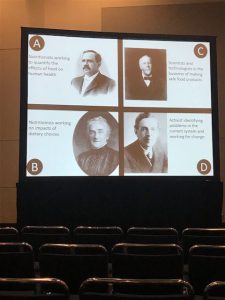 Gustavus Swift – founder of the meatpacking firm Swift & Sons and promoter of the refrigerated rail car, which improved distribution efficiency and increased access to meat. His contributions applied mostly to efficiency, side stream food uses, and improved food safety processes.
Wilbur Atwater—scientist who developed the respiration calorimeter, a chamber that measured all human and animal oxygen consumption during various activities. His contributions apply directly to analytical dietitians who quantify the effects of food on health.
Ellen Richards—a chemist with a focus on euthenics, the science of good living. Richards founded the New England Kitchen which demonstrated how nutritious, palatable meals could be produced and served at modest prices – an early approach to community nutrition.
Upton Sinclair—novelist who exposed the sanitation horrors and human injustices of the meatpacking industry in Chicago, which led to increased transparency, reform, and regulation over the food system. Sinclair mobilized a movement of food activists who work towards a healthier, more sustainable food system.
According to the speaker, Dr. Coupland, "Now, as then, food scientists and nutrition professionals are engaged in these issues, sometimes working together and sometimes in conflict." This message resonated, as many of the challenges faced in the food industry are an entanglement of both food science and nutrition.
Expo Highlights
Gone are the days of a nutrition expo dominated by hospital-focused treatments and poor tasting "health foods." It was exciting to see the level of innovation and the breadth of products represented at the FNCE expo. Each lap of the expo floor produced 2 re-usable shopping bags full of buzz-worthy products representing key trends in food and nutrition.
Low/No-Sugar
Resonating mostly with the younger millennial RD community were the Siggi's and KIND booths, which had lines down the aisle due to their strategic RD and RD2BE ambassador programs. Siggi's was promoting an indulgent triple crème Icelandic skyr. KIND had a whole snack bar set up, sampling savory flavored bars, fruit bites, and minis. Also present was La Croix, whose colorful and centrally located booth positioned their unsweetened, naturally "essenced" seltzers as an alternative to soda.
Protein Power
Protein definitely dominated the expo; it seemed it was being called out in every food, across every category. FlapJacked showcased their delicious protein pancake mixes as well as their microwavable Mighty Muffins, which featured pea protein, whey protein isolate, and probiotics using a Ganeden proprietary heat resistant culture. Enlightened Desserts showed their guilt-free, protein-packed ice creams and rice crispy treats. Orgain, traditionally a beverage company, passed out samples of their plant based protein bars fortified with a pea and brown rice protein blend. Pulse-based pasta brands like Banza were dishing up delicious high protein noodles with pesto and marinara.
FODMAP, Paleo, Whole30, oh my!
In recent years, it seems that diets are moving away from being 'traditional diets' toward being entire lifestyles. Representing the Paleo community were Simple Mills, RXBAR, and Kitch Fix, all offering whole food snacks free from grains, dairy, refined sugar, and soy. Happy Bars and Trueself met the demand for more low-FODMAP friendly foods free from fermentable carbohydrates to potentially relieve GI symptoms. A few products, like ZUPA Noma's drinkable gazpacho even boasted the WHOLE30 certified logo for individuals on the restrictive 30 day restart diet.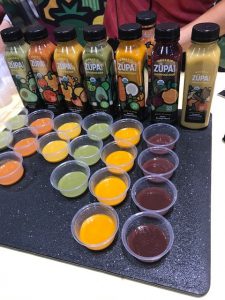 It is an exciting time for nutrition and food science as the two begin to overlap more and more. Due to the growth of health and nutrition across categories, the FNCE expo had more of a trendy, contemporary feel than what you might expect. We expect to see sustained growth in products that unite nutrition with taste and convenience as consumers demand healthier products. Nutrition professionals, as the experts on health trends and often the earliest adopters of these products, will continue to be a key resource for manufacturers and brands to leverage.
Jenna Mills, MS, RD

Jenna is a Registered Dietitian and received her master's degree in Nutrition and Exercise Physiology from Teacher's College of Columbia University. She has experience in food industry, marketing, corporate wellness, and nutrition education and is currently a Marketing Communications and Customer Engagement Specialist for Kerry's nutritional beverage team.