This blog explores the consumer perspective and market of digestive health. Read What Does Digestive Health Really Mean? to learn more about digestive health and some of the terms used in this blog, like microbiome and FODMAPs.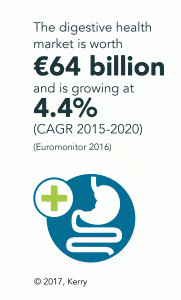 Optimum digestive health has been a mainstay consumer desire for over 20 years, but it has been experienced an upsurge in recent years. Digestive health driven trends like gluten free and dairy free are becoming more popular, fuelled in part by consumers' increased willingness to discuss their gastrointestinal woes. With 86% of US consumers report experiencing gastrointestinal issues on a regular basis, it should come as no surprise that the digestive health market is booming at a value of over €64 billion and set to grow globally at 4.4% (CAGR 2015-2020) (Euromonitor 2016).
What Digestive Health Benefits Do Consumers Want?
Emerging research is seeing digestive health moving beyond symptoms isolated to the gut, such as bloating, constipation and diarrhoea and start to encompass total health of the body and mind. Every day, media headlines are linking the gut microbiome to a myriad of benefits for conditions such as anxiety, depression, stress, weight management and obesity, diabetes, auto-immune disorders and allergies. This is what has been coined the 'Digestive Wellness 2.0' trend. There is a budding excitement amongst researchers and consumers alike at the plethora of possibilities that unique microbe strains may bestow. Prebiotics have long been recognised for their digestive and immune health benefits, as 70% of immune cells reside within the digestive tract. A recent study highlighting the role of prebiotic Bimuno galactooligosaccharide (B-GOS) in reducing cortisol (sometimes referred to as the 'stress hormone') levels in healthy subjects (Shmidt et al., 2015) led prebiotics to be termed the new 'mood food'. This game changer in digestive health could see these functional ingredients take centre stage within the evolving 'mindful' consumer lifestyle trend, which sees more and more consumers seeking out sophisticated and user-friendly solutions that help manage their mood, de-stress and achieve more mental balance within their hectic and busy lives.
The growing research around the microbiome also connects with the trend of personalised nutrition. Because different bacterial strains can provide different health benefits, products could be formulated to help with certain diseases by choosing targeted bacterial strains. The Professor of Genetic Epidemiology at King's College London, Tim Spector, predicts that personalised gut health advice will become routine medical practice in five years' time (Nutraingredients.com 2016). He is the researcher behind the start-up 'Map my Gut', which offers customers a comprehensive microbiome analysis using DNA sequencing technology. It provides individualised dietary and lifestyle recommendations based on the diversity of customers' gut ecosystem to improve both microbial balance and function.
Free From is the Driving Force in Digestive Health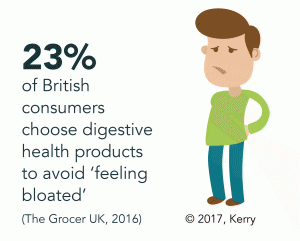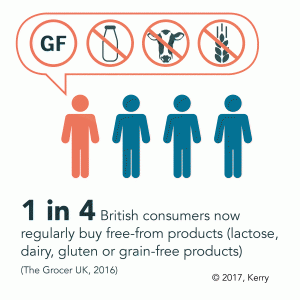 The digestive health market is extremely dynamic and most likely underestimated. The quest for digestive wellness is not only driven by functional ingredients but dually by ingredient avoidance. The free from trend can be tracked back to a central desire for digestive health. It has been reported that more than 1 in 4 British consumers now regularly buy free from products (lactose, dairy, gluten or grain-free products) with 23% choosing such products to avoid 'feeling bloated' (The Grocer UK 2016). Gluten is often slated as the cause of digestive discomfort and removed from the diet. 1 in 3 (31% of UK and 36% of US) consumers are likely to limit their intake or avoid of gluten despite the fact that only around 1% are diagnosed with Coeliac Disease (Mintel, Gluten-Free Foods Report, October 2016). In parallel, the launch of dairy alternative products has grown substantially, accounting for 15% of digestive products in the US in 2015, up from 1.4% in 2010, whilst the number of dairy product launches has reduced from 48% to 35% within the same time period (New Nutrition Business 2016). Fuelled by the growing tendency amongst consumers to self-diagnose themselves with a food allergy or intolerance, the free from trend is now worth over €11 billion globally and is forecast to grow at 5% CAGR from 2015-2020 (Euromonitor 2016).

The Rise of FODMAP Friendly Foods
'FODMAP friendly' foods could be the next generation in the lucrative free from market. FODMAPs (Fermentable Oligosaccharides, Disaccharides, Monosaccharide's and Polyols) are a group of ingredients that may be responsible for digestive discomfort. They are rapidly fermentable, short chain carbohydrates, which are poorly absorbed within the gastrointestinal tract. The Low FODMAP Diet was developed by researchers at Monash University, Australia, in an effort to control the gastrointestinal symptoms associated with Irritable Bowel Syndrome (IBS). Click here for more detail on the FODMAP diet. There are many high FODMAP foods, from milk and ice cream (lactose), to apples and pears (free fructose), to wheat, onions and garlic (fructans), to legumes (galacto-oligosaccharides), and prunes, bell peppers and sugar-free gums (polyols). Although this diet is aimed at people suffering from IBS, it's likely that as awareness of the diet expands, coupled with the growing tendency to self-diagnose, other consumers seeking digestive wellness may be drawn to 'FODMAP friendly' claims. The 'FODMAP friendly' logo, developed by the Australian-based FODMAP Friendly certification programme,  is the only government approved accreditation that tests products to determine if they are eligible to display the logo.
Opportunities for food manufacturers who wish to develop new products in this space include optimising processing capabilities to reduce FODMAP levels in food and beverages (e.g. milling process, baking process, wheat type and duration of fermentation) and fortifying low FODMAP friendly foods with nutrients that are restricted with this diet e.g. calcium. Nestle's launch of ProNourish, a low FODMAP nutritional beverage, is a good example and who knows if this niche regime could become the next mainstream diet in the digestive wellness trend.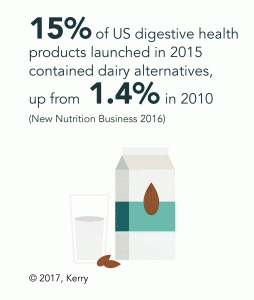 The Horizon of the Digestive Health Product Market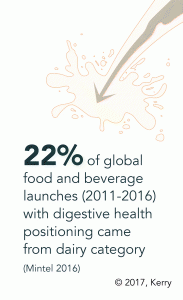 New products are quickly emerging in this growing market. Within food and beverages, prebiotics and functional fibres are the leading digestive health ingredients and dairy is the largest category for products touting digestive health benefits, accounting for 22% of new food and beverage launches globally carrying a digestive health claim from 2011-2016 (Mintel, Emerging Science Global Annual Review, 2016). Emerging digestive health ingredients include fruit enzymes such as kiwi enzymes as well as proteolytic enzymes, which are primed to grow in popularity with the trend towards 'high protein', as these enzymes are thought to help digest protein. Next generation 'Plusbiotics' claim to support the regrowth of intestinal mucosa (the innermost layer of the gastrointestinal tract) by repairing damage and strengthening the intestinal lining. Innovative ingredients with a natural positioning will win consumer appeal within food and beverage products aimed at the digestive health market.
Digestive Wellness 2.0 is undoubtedly an exciting platform that connects with personalisation, holistic health and consumer desire for food-based contributors to positive mental health. As the science unravels, food and beverage manufacturers can lead in innovation in delivering these much anticipated health benefits to consumers.
References
Caroline Cummins, MS, RNutr

Caroline Cummins, MS, RNutr graduated from University College Dublin (UCD) with a BSc in Food Science and completed her MSc in Public Health Nutrition at Queen Margaret University in Edinburgh. Caroline worked at the Institute of Food and Health at UCD as a Nutrition Scientist and has industry experiences in the performance nutrition, proteins and infant nutrition, and healthcare.