"Which sweetener should I use, and how much?"
These are questions being asked by formulators across the food and beverage industry as sugar drives more and more purchase decisions for consumers. We've known for a long time that 'less is more' when it comes to sugar from a nutrition science perspective. WHO and USDA have established recommended daily sugar intake limits, and sugar taxes are popping up around the globe. Consumers are also demanding lower sugar products.
For formulators who also have to make sure products taste good when reducing sugar, though, it is a little more complicated. Consumer perceptions about sweeteners play a large role in whether they will buy a product or not, but it can be difficult to find information about which sweeteners are perceived as healthy, and how much is acceptable in a product.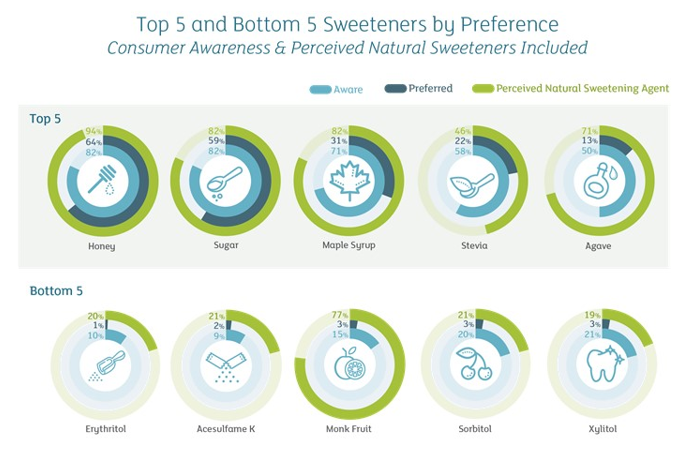 A recent study by Kerry delivers some of these answers that were previously hard to find.  The company surveyed over 760 American consumers in the United States, measuring consumer perceptions of 17 sweetening agents to understand their attitudes, preference, and ideal sweetening agents across six product categories: sports drinks, carbonated soft drinks, ice cream, flavored alcoholic malt beverages, granola bars, and cookies and cakes. Results showed that 71 percent of consumers read the sugar content on ingredient labels, and 46 percent of consumers strongly want to reduce their consumption of sugar. The results of the study provide unique insight into consumer preferences of types of sweetening agents, preferred intensity of sweetness, and impact on the taste and nutrition of the product.
In the end, sweeteners like honey and cane sugar are delivering the same amount of calories as high fructose corn syrup – the key to success is to create products lower in sugar, no matter which sweetener is used, but also strategically choose sweeteners that resonate with consumers as healthy to help make a health halo a reality.
The full white paper is available for download HERE.